Magic mural lights up Lanarkshire recycling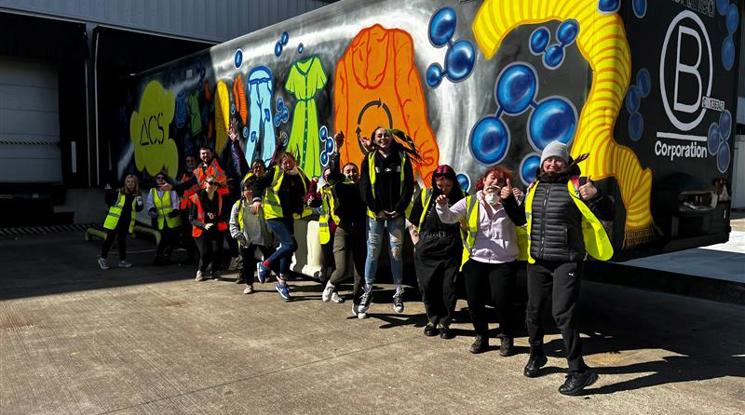 NCL students have created an incredible mural for ACS Clothing's mobile ozone chamber.
Some of our Art and Design Student's work will be on tour across Scotland after they decorated a mobile unit that helps make used clothes cleaner than new.
ACS clothing are a Lanarkshire firm that specialises in in rental fulfilment and clothing renewal. They are now Europe's largest circular fashion hub that offers brands/retailers expert fulfilment, order management, cleaning, repairs and more.
They have a long standing connection with NCL and asked Art and Design students here to add some artistic magic to their new ozone chamber.
All of ACS's rental garments get processed in bulk in the ozone chamber, through the process of Ozone sanitised which is a safe process for garments that ensures they are cleaner than when purchased in a store ensuring they can be reused.
Lecturer Mia McGregor-Webb said that over a number of weeks students worked to ACS's brief creating designs.
She said: "We had over 30 initial designs and then with artist research and planning we collaborated to make four final designs - then ACS picked the two which were the strongest and we incorporated both. From beginning to end this was a collaboration. The final design involved work from 17 beautiful minds.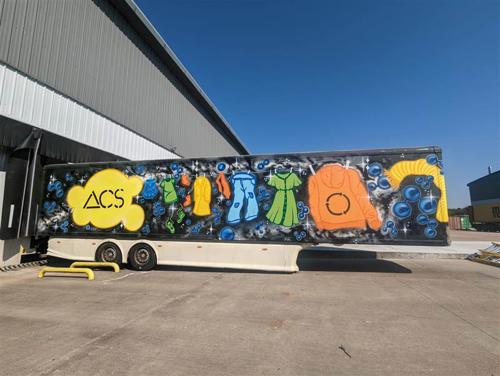 The students are amazed they produced such a high quality artwork. I am incredibly proud of them. This was the first time any of them had painted to this scale and using spray paints. They showed teamwork at its finest and feel they have developed a sense of being an artist out in the industry. The skill they gained from this experience will serve them well for a very long time. They are beyond chuffed and we all feel very proud of them."