NCL Film and TV students wins Royal Television Society Award!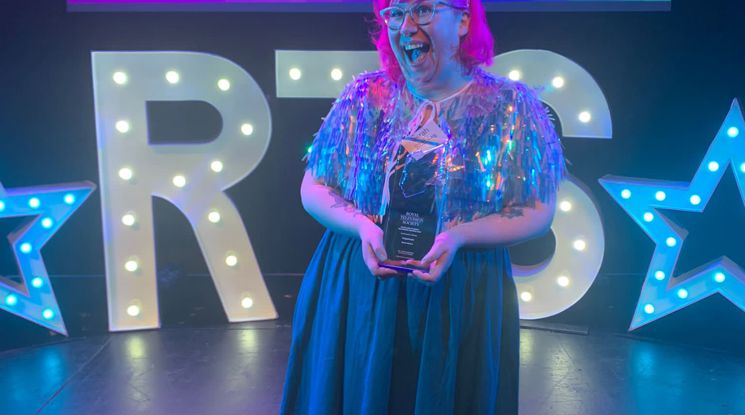 New College Lanarkshire Film and TV student Sarah Stables won a Royal Television Society Student Award for her film 'Falsehood' last night.
The awards recognise the best student filmmakers in Scotland and Sarah picked up the prize for best written film.
The 36-year-old from Cumbernauld, said she was 'genuinely shocked' to win.
She said: "It was the last award of the night and the standard of the other entries was so high. I'd only entered to get the experience of submitting something to a competition, I did not see this coming."
'Falsehood' is an intense short film, featuring a young couple having a fight in a car.
Sarah said: "It was drawn from personal experience. Many moons ago an ex broke up with me in similar way. I'm very much over it, but it always niggled at me that I didn't say the things I wish I had, so it was cathartic to go back and put that right!"
Sarah came to New College Lanarkshire when she decided to pursue a career she was really passionate about.
"I previously had office jobs and then I had two children and thought I'd go back to work when the my youngest was three and went to nursery. But that was the year Covid hit and it made me think that I didn't really want go back to office work, I wanted to something I really cared about. I wanted to set an example for my kids to do what makes you happy."
She found a flyer for New College Lanarkshire and hasn't looked back.
"I've always been interested in film and TV, the course looked really good and I applied. It's been fantastic. The variety of people on the course is amazing, people I'd never have met in 'real life' but have become really good friends. And the lecturers have been so supportive. I definitely feel a connection to the department that will continue after I leave."
Sarah finishes her course in August and is looking for screenwriting and directing opportunities.
Gail English, Chair of RTS Scotland Student Awards, said it was a great time to get into showbusiness.
"The TV industry is crying out for new talent and the RTS Student Awards presents opportunities for talented students to share their work and meet with industry professionals – and this year's showcase shows there is no shortage of talent in Scotland."
Find out more about our Film and TV courses at New College Lanarkshire: Film and TV courses.