NCL students to share the Hydro stage with Lewis Capaldi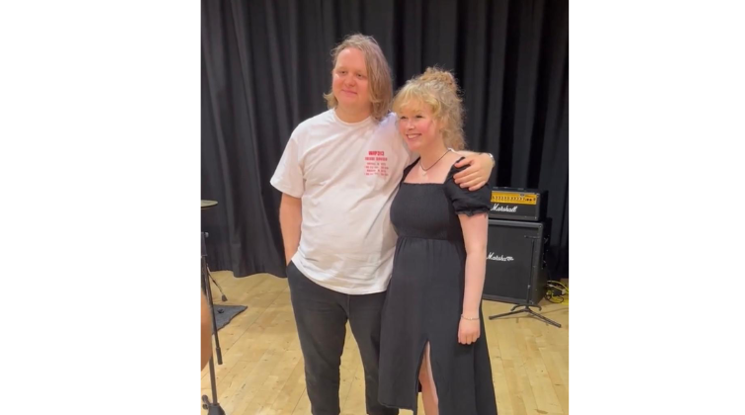 A Scots college music student has landed the gig of a lifetime supporting global superstar Lewis Capaldi when he performs at Glasgow's OVO Hydro later this month.
New College Lanarkshire student Broghan will take to the stage on January 24 in front of more than 12,000 people ahead of the Someone You Loved star's performance.
Lewis has maintained close links with NCL where he studied before his career exploded seeing him go to No.1 on both sides of the Atlantic. Last September he went back to the college to meet former lecturers and the current batch of students.
BA Music Performance Degree student Broghan from Hamilton got the news last Friday that she would be sharing the stage with the star.
She said: "I got a phone call from my lecturer Scott Cowie to tell me I was supporting Lewis Capaldi at the Hydro. I was in the middle of packing to go on holiday the next day. I was completely shocked. I thought Scott was joking. When I realised he wasn't, I burst into tears! Happy tears though don't worry."
Broghan, 20, will be joined on stage by her backing band which consists of fellow NCL students Ryan Fyffe, Drums; Lauren Kelly, Keys/Backing Vocals; Connor Frame, Guitar; Rhys Walker, Bass.
"It's a little cheesy, but we all honestly feel it's more than a music course, we're all really close and continue to have an incredible experience together. Clearly, we are all part of something that has been building for years and when you get the biggest star in the world showing how much he loves the college and feels proud to still be a part of it in a way, it tells you all you need to know."

Looking ahead to performing on January 24 Broghan added: "It will be a really proud moment for us, a career highlight, and another part of this incredible story which is hopefully just beginning." 
Lewis has spoken publicly in a host of interviews about his deep affection for the music performance course at New College Lanarkshire. Students were stunned when he made a shock return to the college in September for a question and answer session.
He spoke about his many "fond memories" of his time on the course and said music students like Broghan were in "good hands" with the music staff.
In an interview on the BBC Afternoon show last week, he added that the September return visit to New College Lanarkshire was the "most rewarding thing I've done".
He indicated that he feels he is giving the same encouragement to the current crop of students that multi-platinum solo artist Sandi Thom gave to him in a guest lecture in the exact same room when he was a student a number of years ago.

Broghan's lecturer Scott Cowie said: "It's absolutely brilliant that the students are getting this opportunity. Lewis had the idea of surprising the guys earlier this year when he visited for a Q and A session and they have not stopped talking about it since his visit and are totally inspired.
"I am thrilled that he stills wants to contribute to a place that means so much to him and has provided this incredible opportunity for our students."
Follow Broghan's music here:  https://www.broghan.co.uk