Breaking the Cycle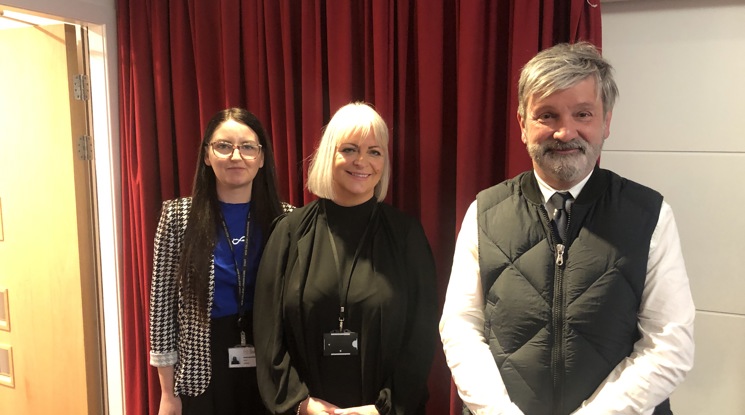 Conference on Poverty and Crime moves hearts and minds
New College Lanarkshire Students and staff heard from an ex-police chief, a victim of crime, a Criminology professor and a former criminal at a ground-breaking conference at our Coatbridge Campus on Monday.
The theme was exploring the link between poverty and crime in Lanarkshire and a diverse range of speakers ensured a moving and stimulating day.
Principal Christopher Moore welcomed guests with a powerful address stating that 'poverty shortens lives' in Lanarkshire and describing some of the initiatives the College had taken to combat that.
Audrey Hand from TARA drew upon her past as Police commander for Glasgow City, to discuss the horrifying reality of Human Trafficking in Scotland.
Jane Crowe, head of our Beauty, Aesthetics and Hair Design department, spoke movingly about the murder of her brother when she was a teenager and the generational impact it had on her family. 
Professor  John McKendrick is a Human Geography professor at Glasgow Caledonian University and Co-Director of SPIRU, and the Fair access commissioner working with the Scottish Government. He gave an insight into the impact of Poverty on the West of Scotland before author Graeme Armstrong spoke about his own past, as a gang member in young teams in Airdrie and Coatbridge.
He spoke powerfully about his experience of addiction and how he broke the cycle of violence in his own life.
Through the day attendees had the chance to view academic posters created by NCL students, supported by lecturer Calum Crosbie, that explored different aspects of the relationship between crime and poverty.
Lecturer Levi White, a key organiser of the event closed proceedings by thanking all those present for attending and observing that she had been most impressed by the ability of individuals to make a positive difference in other people's lives.
One the same day a parallel event took place on our Motherwell Campus, where students heard form Suzi Murning who is Policy and Public Affairs Adviser at Save the Children Scotland. Suzi discussed the Better for Babies campaign to highlight the issue of poverty in the early years. Inspector Neil McLeod of Police Scotland joined the students in the afternoon to discuss Community Policing among other issues.