Legal students head to High Court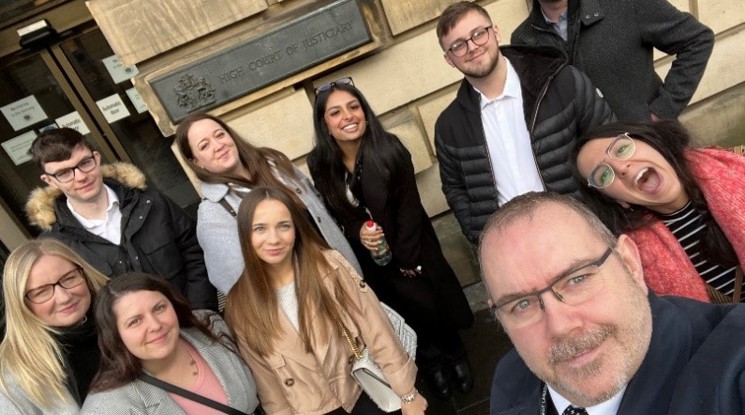 Our HND Legal Studies students had an exclusive peek behind the scenes at Scotland's highest criminal court this week.
Academic Leader for Law, Ciaran O'Neill, arranged the trip to Scotland's Highest Criminal Court to help students understand how Scotland's legal machinery operates.
NCL students sat in on a murder trial and heard several Crown witnesses giving evidence, were given a tour of Parliament Hall within the Court of Session, and listened to a private talk in Court 1 by the Principal Clerk to the court on how it operates.
The highlight, however, was a private audience with the current High Court Judge and former Lord Advocate, Lord Mulholland, who had specially prepared a presentation on several high-profile cases that he had been involved in, including the World's End Murderer Angus Sinclair and serial killer Peter Tobin.
Student Sonia McInnes said it was an 'outstanding day', and she was still 'buzzing'.
She went on: "Listening to each individual tell their journey, experiences, and words of wisdom was truly inspirational. I could have stayed there all day listening to them and was captivated by their knowledge. I came home wanting to extend my own knowledge and in awe of these real-life role models."
Student Zeena Muhsin said it 'was the best day I've had in a long time'.
 She went on: "This has reignited the spark I once intensely felt for wanting to study law, it has honestly had a massive impact on me and I'm ready to work harder than ever to get there."
Ciaran O'Neill said it had been 'an excellent trip for the students'.
He went on: "They were very fortunate to have had a whole host of different experiences laid on for them. It was a fantastic opportunity to see first-hand much of what they had been covering in class. I am exceptionally grateful to Lord Mulholland and his clerks for all their hard work and effort into arranging this day for our students."